Extreme E: Hispano Suiza XITE myenergi, face Jenson Buttons JBXE in crazy race!
Extreme E gives us a dramatic debut day of qualifying with barrel rolls and penalty points galore!
We saw early drama with Le Mans 24 Hours podium finisher Stephane Sarrazin of Veloce Racing, rolling the team's Odyssey 21 E-SUV during the first round qualifying run.
The roll happened at the bottom of the second sand dune where Stephane lost control on the road crossing and hit the toughed of camel grass, kicking up the rear end of the car. Luckily Stephane came away un-scathed showing just how impeccable the safety is of the Spark Odyssey 21.
A second huge red flag crash came not long after when Claudia Hurtgen's car appeared to dig into the sand on a rutted section before dramatically rolling over several times. Team ABT Cupra were initially concerned when they didn't hear a radio response from Claudia, though a massive relief from all watching when she came out of the overturned car standing, described by her team mates as the best pictures of the day.
Sebastien Loeb and Cristina Gutierrez of Lewis Hamiltons X44 team gained the pace early, being the first team to run and really set the benchmark high, leaving the remaining teams chasing hard over the course of the qualifiers.
However, despite a solid start from Hamiltons X44, it was Nico Rosberg's team which pipped them to the post with a tremendous run from Johan Kristoffersson & Molly Taylor, snatching the top spot by 4.50 seconds, giving Rosberg X Racing an early head start in qualifier 1.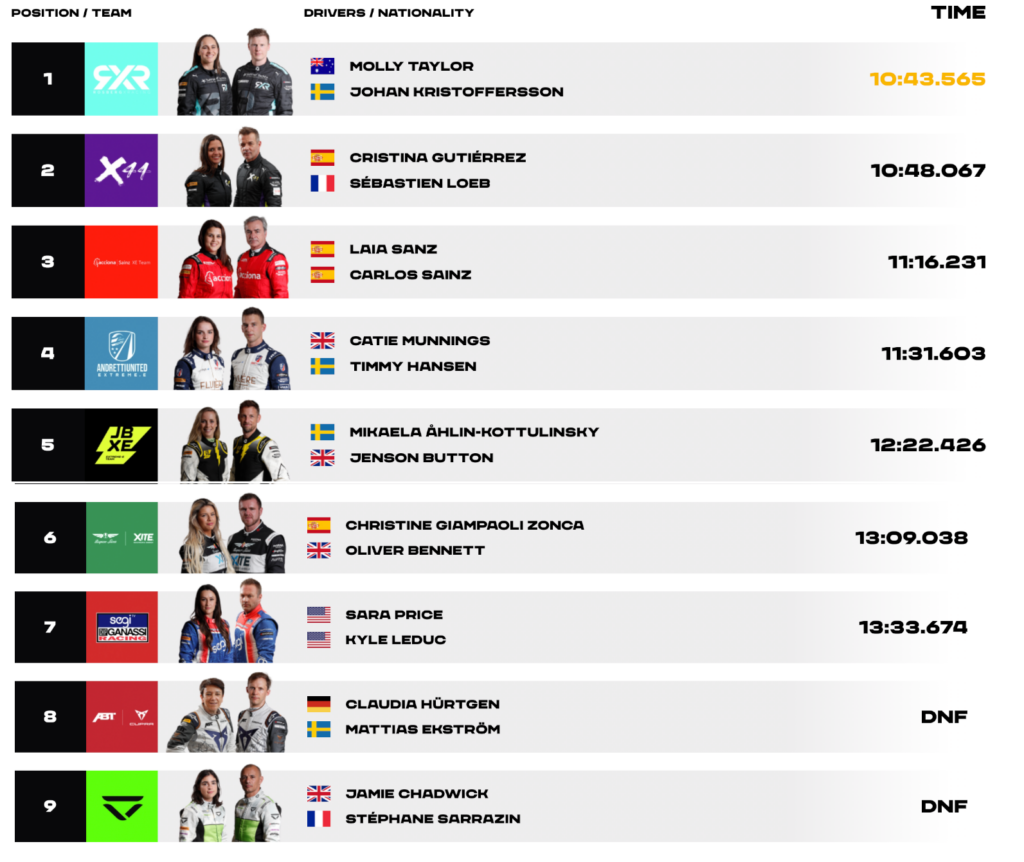 The battle for 5th – 6th spot was heightened between Oliver Bennett & Christine Giampaoli Zonca of Hispano Suiza Xite Energy & Jenson Button & Mikaela Ahlin-Kottulinsky of JBXE, where both teams incurred penalty points for speeding in the switch zone. However, Jenson's team incurred extended penalties which left an easy, slow and steady run out for the Oli & Christine on the second leg, simply needing to get the car in myenergi colours back in one piece. 6th place is a particularly sought after spot amongst the bottom 4, being the last position in which to qualify for the semi final rounds.
The penalty points didn't end there, with Rosberg X Racing incurring a major 60-second time penalty for speeding in the driver switch lane which saw Taylor & Kristoffersson fall down the order from first to third and finally finishing in 5th place overall, following excellent runs from Andretti United including British driver Catie Munnings and Acciona Sainz XE Team.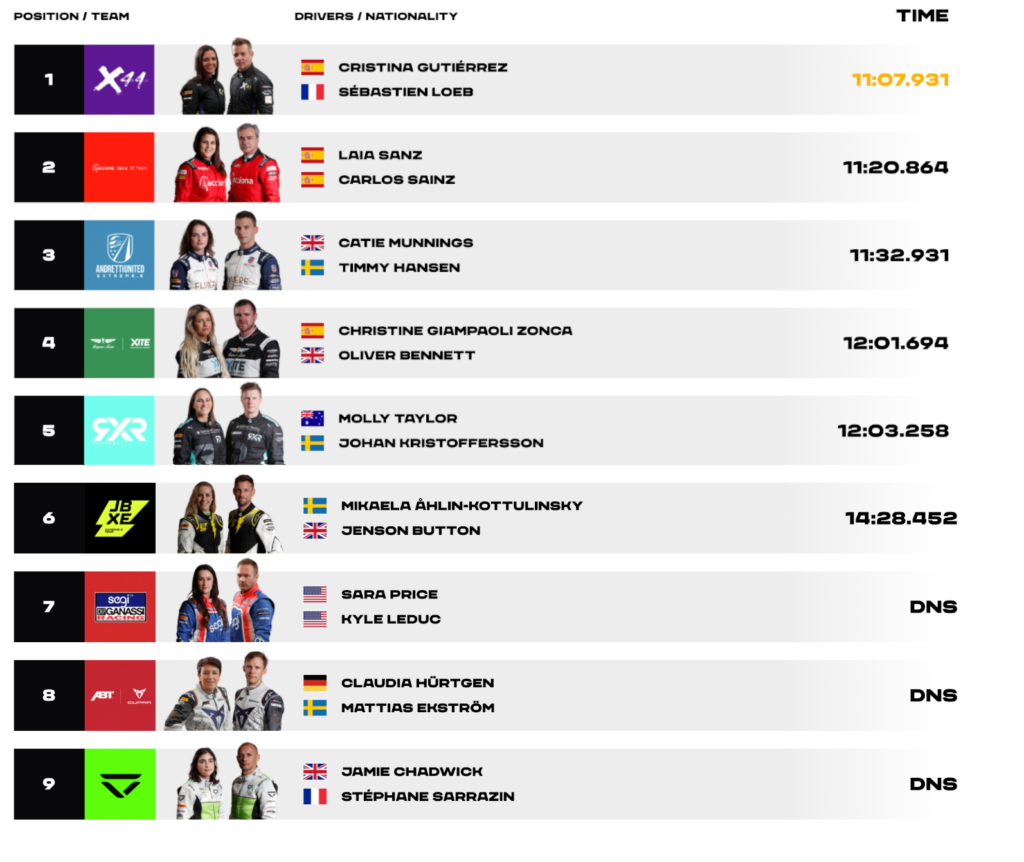 To the relief of Jenson Buttons JBXE, Chip Gannassi Racing unfortunately did not start the second qualifiers due to damage to the car  which caused issues with the steering, which in turn gave Jenson and Mikaela a free pass into the semi final, 'crazy race' consisting of 4th, 5th & 6th place contenders.
Here is how the teams finished up, with Loeb & Gutierrez finishing first place in qualifying with a combined time of 21:55.998.
 X44 (Sébastien Loeb / Cristina Gutiérrez) 21m55.998s
 ACCIONA | Sainz XE Team (Carlos Sainz / Laia Sanz) +41.097s
 Rosberg X Racing (Johan Kristoffersson / Molly Taylor) +50.825s
 Andretti United (Timmy Hansen / Catie Munnings) +1m08.536s
 Hispano Suiza XITE Energy Team (Oliver Bennett / Christine Giampaoli Zonca) +3m14.734s
 JBXE (Jenson Button / Mikaela Åhlin-Kottulinsky) +4m54.880s
 Segi TV Chip Ganassi Racing (Kyle LeDuc / Sara Price) +2 laps
 ABT Cupra XE (Mattias Ekström / Claudia Hürtgen) +3 laps
 Veloce Racing (Stéphane Sarrazin / Jamie Chadwick) +4 laps
What's happening in the myenergi camp?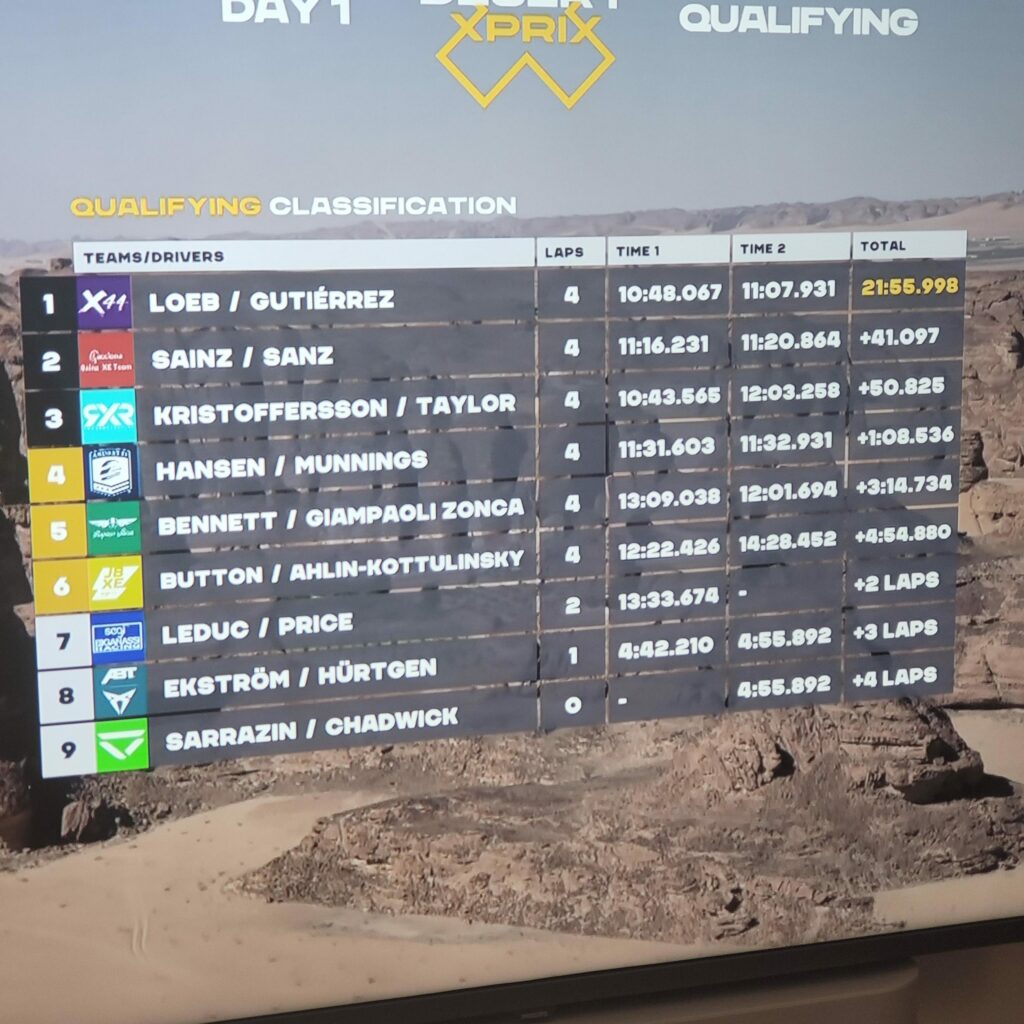 P5 qualification sees Hispano Suiza Xite Energy Team progress to 'Crazy Race'
 Following an impressive P5 in qualification, The Hispano Suiza Xite Energy Team, powered by myenergi, progresses to the Extreme E Desert X Prix 'Crazy Race' semi-final. A total time of 25m10s saw drivers Oli Bennett and Christine CZ place mid-table, just ahead of Jenson Button's JBXE.
With Desert X Prix qualifying the first real opportunity for teams to push their Odyssey 21 EV SUVs to the limit, the first session was dominated by a number of close calls, technical faults and two huge offs. Even Oli and Christine were caught-out, receiving a time penalty for speeding in the pit lane.
While 'unrepairable damage' saw two teams withdraw from the event ahead of the second session, the Hispano Suiza Xite Energy duo delivered their best performance of the day in Q2, improving significantly on their already impressive first run.
The 'Crazy Race' semi-final will see the teams qualified in positions 4, 5 and 6 compete head-to-head, with the winner progressing to the Desert X Prix final. The race will be broadcast on Sky Sports Action, Sky Sports Mix and BBC iPlayer, as well as the Extreme E Website and social media streams.
Jordan Brompton, co-founder of myenergi, commented: "The first day of Desert X Prix has been absolutely amazing! Both Oli and Christine drove really well and we're so proud of their P5 result.
"It's one of the most indescribable feelings to see the myenergi-branded SUV tearing over the dunes and we can't wait to watch the racing tomorrow! Extreme E has already proven itself to be the most high-tempo series anywhere in the world. We're so glad to be part of proceedings as principal sponsor of the Hispano Suiza Xite Energy Team."
For more information about Extreme E, read our Ultimate Beginners Guide here.
Going electric? Get the UK's number one selling Eco-Smart EV charger here!