We're extremely excited to announce plans for our new 15,500 sq ft myenergi flagship headquarters on a brand-new £2.6 million business park development in Lincolnshire.
The move will enable us to develop more innovative renewable energy products and continue manufacturing the ground-breaking devices that have proved so popular among sustainability and green energy enthusiasts around the world.
Thanks to the UK's increased focus on renewable energy (and our fantastic customers!), we have outgrown our current premises. However, the new headquarters will significantly increase production, manufacturing and the size of the team, which has already grown from six to 60 people in just 3 years.
"We're so proud of how far we have come and cannot wait to move into the new premises," says Jordan Brompton, our co-founder and Sales Director.
"This could not have been achieved without our amazing team and wonderful customers, so I would like to thank everyone who has helped us get to where we are."
Our continued plans for expansion include the release of exciting new green energy products and the construction of a large warehouse on the adjoining site of their new premises on Stallingborough Business Park.
Dr Chris Horne, our Commercial Director, says: "This is an exciting development for myenergi as we continue to grow by investing in UK manufacturing and committing to local employment.
"It's been great working with NELC to develop the detailed plans for our new headquarters. Their team has taken the time to really understand our business and then deliver a building that meets all our requirements. We can't wait to move in!"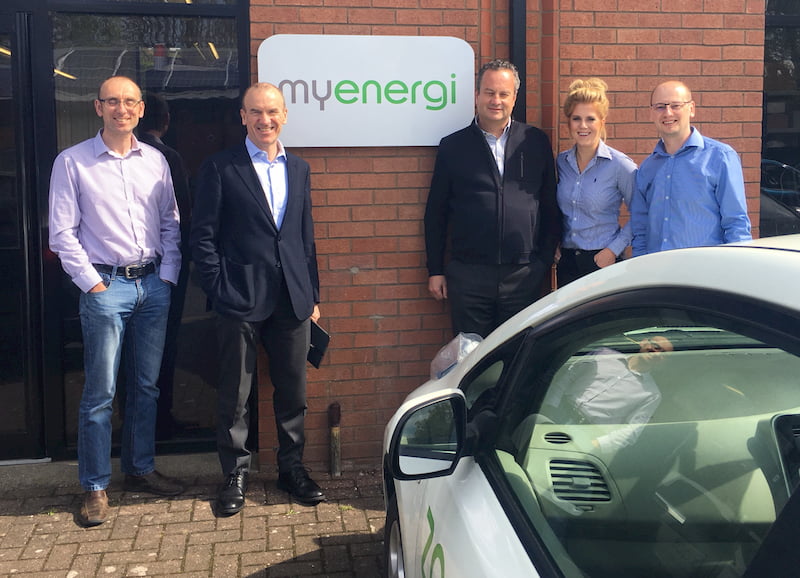 The Park is part of the recent £42m South Humber Industrial Investment Programme (SHIIP), which, supported by the European Regional Development Fund (ERDF), is set to transform North East Lincolnshire's industrial fortunes through ecological mitigation, creating wetland habitat and enabling new development in the area.
"I'm delighted to have myenergi sign on the new site, further cementing our credentials as a key part of the Energy Estuary," says Cllr John Fenty, Cabinet member at North East Lincolnshire Council for regeneration and skills. "
We've a long way to go to make sure that the business park fulfils its potential, but with myenergi having the confidence to choose our area, others will follow."