Tesla Cybertruck: Everything You Need to Know
Tesla Cybertruck
Since its November 2019 unveiling, the Tesla Cybertruck has been turning heads and raising the eyebrows of motorists, environmentalists and electric vehicle enthusiasts across the globe.
With an increasing demand for sustainable alternatives to all aspects of our lives – from shopping bags to how we're powering our homes – Tesla's new model is the latest in a constant flow of new and exciting advancements in the sector.
Very little generates as much interest and anticipation than a new addition to Tesla's electric vehicle range. Not in the least for Jordan, our Myenergi director, who has actually pre-ordered a Cybertruck herself!
From Tesla's Chief Designer taking a steel ball to the 'bulletproof' exterior windows (and shattering the glass) to the Tesla Cybertruck's capabilities and design, follow our guide to learn everything you need to know about the upcoming new model.
---
What is the Tesla Cybertruck?
The Cybertruck is Tesla's first electric pickup truck. Hailed as the 'future' of the auto industry, Tesla CEO Elon Musk has said that that design is 'cyberpunk', and inspired by the film 'Blade Runner'. But it's not just the futuristic exterior that has people talking…
What makes Cybertruck so impressive?
Musk has claimed that the Cybertruck can withstand the impact of a sledgehammer and a 9mm calibre bullet. The entrepreneur – and Myenergi hero! – also says the electric vehicle has Autopilot as standard, and that it can go 0-60mph in 2.9 seconds, as well as tow over 7500lbs.
The dramatic specification doesn't stop there. The interior of the Cybertruck includes:
A 17-inch display screen in the center
Seating for 6 people on two bench seats
A marble effect interior, made from sustainable non-petroleum based resins.
How does the Tesla Cybertruck work?
The Cybertruck uses self-levelling suspension, and some models will have all-wheel drive with the option to choose between one, two or three engines. The electric vehicle also includes on-board power inverters (supplying 120 and 240-volt electricity) and an air compressor, allowing for the use of power tools and pneumatic tools.
The exterior of the Cybertruck is stainless steel sheet metal, engineered to be bullet resistant. All the vehicles will have the hardware capabilities to become self driving. Tesla is already accepting pre-orders with a $7,000 'full self-driving' option.
Musk has also said that he would love for the Cybertruck to become self-powered in the future. In a tweet he confirmed there will be optional solar panels that could add 15 miles per day.
Is there anything else like the Cybetruck?
Competitors such as Ford and Rivian are already rising up to meet the challenge, releasing competitors with equally impressive specifications. The US' best-selling vehicle, the Ford F-150, is starting production on an electric version in 2021.
Musk has already hit back, rising to the challenge on Twitter of a proposed tug-of-war between the Ford and Tesla vehicles. The video footage of the event shows the Cybertruck pulling the Ford uphill with ease.
The Rivian R1T Electric Pickup is another Cybertruck rival that has generated a huge amount of anticipation for its release in late 2020. It has a similarly futuristic design, four engines for each wheel and it can estimate how much friction exists between the tires and the surface, allowing it to perform a controlled 360° rotation.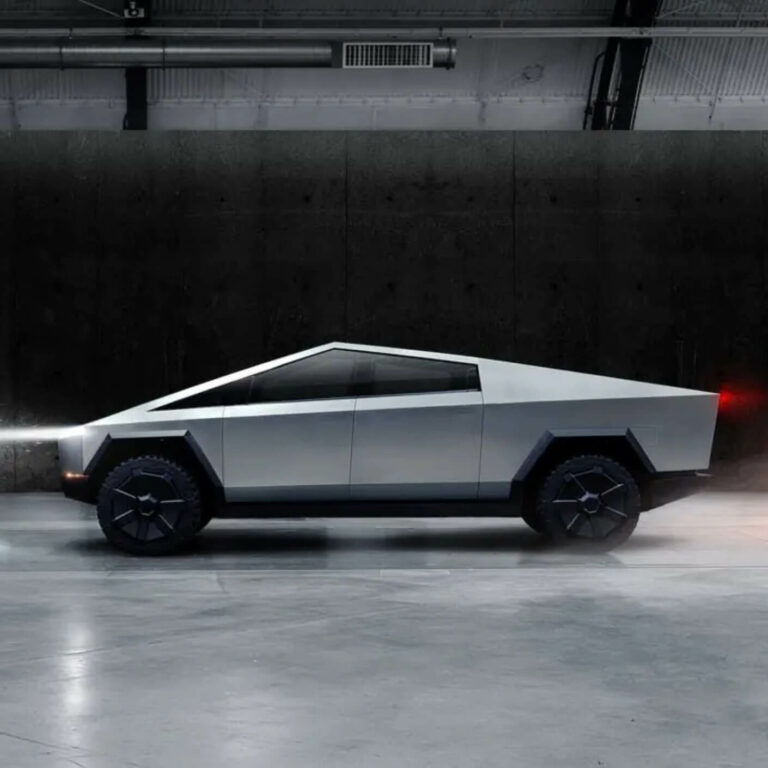 When will the Cybertruck be available to buy? And how much will it cost?
In November 2019, Tesla said that Cybertruck production was scheduled to start in late 2021, and then expand to offer more models in 2022. All the specifications however are for models being released in the US, it is unclear for aspiring UK owners if the model will be the same.
Prices in the UK start from £31,000 for an entry-level, single motor vehicle. The dual motor mid-range edition will cost £39,000, and the tri-motor, at the top of the spectrum, will cost £54,000.
Already own an Electric Vehicle?
---
If you're a lover of renewable energy tech or if you already own an Electric Vehicle (EV), check out Zappi – our own eco-smart EV charger.
Zappi can charge your EV using 100% free energy, generated from either your solar panels or wind generation. It can also operate using electricity from the grid, making it versatile enough for all EV owners. Renewable energy has never been made easier.
This shift towards embracing the more abstract, futuristic aspects of renewable energy is an exciting development towards our collective mission for a more sustainable future.
To learn more about Tesla, electric vehicles and all things renewable, come to our news page for all our blogs. Or alternatively, contact us to have a chat and find out more information.