Desert X Prix Roundup – Hispano Suiza Xite Energy powered by myenergi!
High five for myenergi in Saudi Arabia Extreme E event
myenergi, pioneer of the world's first eco-smart EV charging device, is celebrating a strong fifth place finish with its team in the first event for the new global Extreme E motorsport series held in Saudi Arabia.
Competing against eight other teams – three of them run by Formula 1 world champions Lewis Hamilton, Nico Rosberg and Jenson Button – myenergi is sponsoring the Hispano Suiza Xite Team in the series that highlights sustainability and climate change challenges by racing in threatened habitats around the world.
Drivers Oliver Bennett and Christine Giampaoli Zonca (GZ), sensationally beat Button to be runners-up in the 'Crazy Race' – a last attempt to make it to the grand final of Extreme E's maiden 'Desert XPrix' event in Saudi Arabia's AlUla desert.
Their result puts them fifth in the Extreme E standings heading into the next event at Lac Rose, Dakar, Senegal, on 29-30 May. Three further events will follow later in the year at locations in Greenland, Brazil and Argentina.
Jordan Brompton, co-founder and CMO of myenergi, commented: "On paper, Extreme E sounded like the perfect arena for our brand. We have been blown away watching it come to life with the first event in Saudi Arabia, with widespread coverage in the UK on BBC, ITV, Sky and BT Sport, let alone the many other broadcasts elsewhere in the world and, on top of that, all the feedback across social media.
"Our vision is to become the global leader in eco tech and smart EV charging, so what better platform to showcase our brand to let people know we are here.
"We are super proud of the Hispano Suiza Xite Team and, of course, our two drivers Oli and Christine – their performance all weekend have been outstanding."
Oli Bennett added: "To be in at the start of something like this is a very big deal; to make the top five is great. The Crazy Race was really intense – having Jenson on the outside of me on the grid was incredible. We got a slightly better line than him through the first corner and were able to make it stick.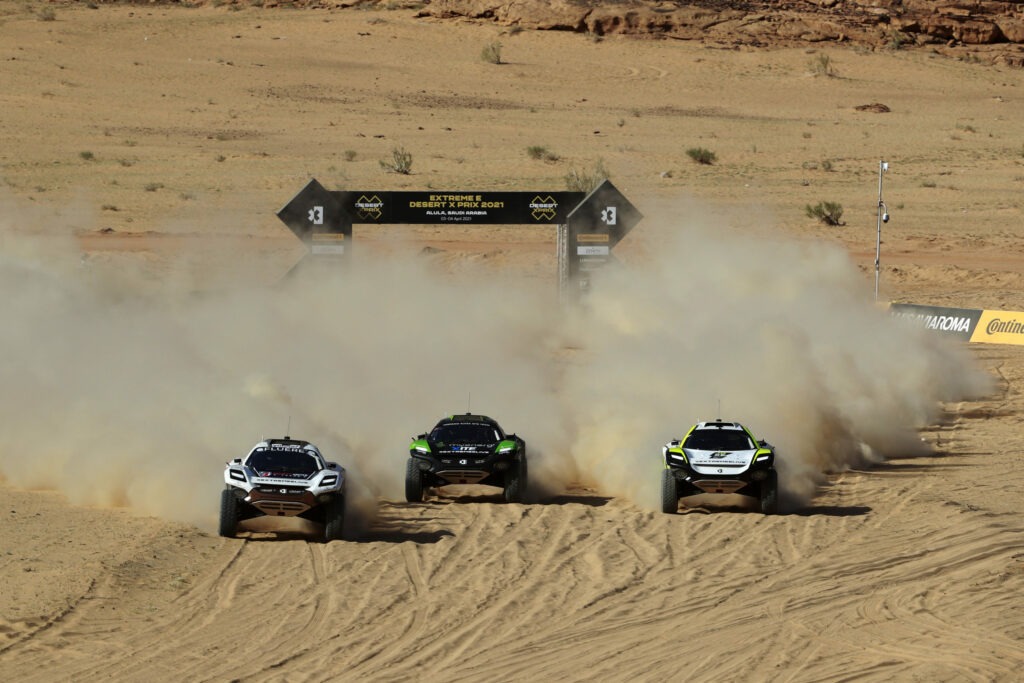 "The dust was horrendous. I was following Timmy (Hansen) into the first corner and it was impossible to see anything. It was like shutting your eyes at 100mph; you just had to back out of the throttle and try to find a different line.
"We have good points on the board and beating a Formula 1 World Champion is a pretty good way to start!"
For more information about myenergi's pioneering range of eco-smart technologies, visit myenergi.com. Details of the 2021 Extreme E championship, alongside more information about the Hispano Suiza Xite Energy Team, can be found at www.extreme-e.com.