Since the start of the coronavirus lockdown, Google searches related to the greenhouse effect, carbon footprints and climate change have, in some cases, more than quadrupled in the UK.
On 23rd March 2020, Boris Johnson announced a UK lockdown against COVID-19, and a prolonged stay indoors has caused many Brits to question their pre-lockdown habits.
During the COVID-19 crisis, we have seen news of a reduction in greenhouse gases and cases of wildlife flourishing in our absence outdoors. 
The drastic change in our day-to-day lives has caused many people to reflect on their behaviour and attitudes towards climate change, with the consequences of global warming becoming increasingly apparent.
Carbon Footprint Searches Quadruple Since Lockdown
With the majority of people working from home or furloughed – and commuting and travel significantly reduced – carbon emissions have fallen dramatically in 2020.
People are spending more time at home than ever before, causing them to question how they can reduce their energy bills and consumption. Google Trends stats show, between the start of lockdown and July, people searched "what is a carbon footprint" four times (300%) more often than the period before lockdown.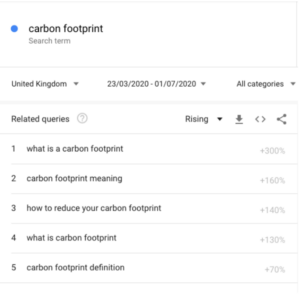 Meanwhile, searches for "UK pollution levels" quadrupled, with 300% more people typing this query into Google between 23rd March and 1st July. Searches for "carbon footprint meaning" and "how to reduce your carbon footprint" also more than doubled in that time.
A carbon footprint is the measure of greenhouse gases released into the atmosphere as a result of one's activity. If everyone were to reduce their carbon footprint, the effects of global warming would slow.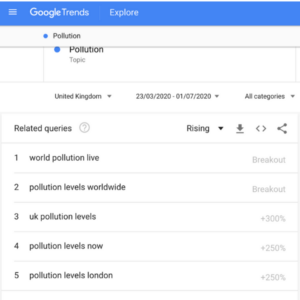 Climate Change – More People Tackling The Problem
Climate change has been a consistent talking point around the world for much of the last decade, with global warming presenting itself as an ever-increasing threat to our planet.
People are now paying more attention to the greenhouse effect and global warming than ever before, which is reflected in the latest Google search trends.
Between 23rd March and July 2020, searches for the "greenhouse effect", the "definition of climate change" and "causes of climate change" more than doubled.
The Search Stats
Searches for "what is the greenhouse effect" increased by 550%.

"What is global warming" searches grew by 120%.

People Googled "define renewable energy" 180% more often during lockdown.

People asked Google for the "causes global warming", twice as often compared with the previous period.

"What is a renewable energy source" was Googled 120% more often.

Searches for "human causes of climate change" saw an 80% uplift during lockdown.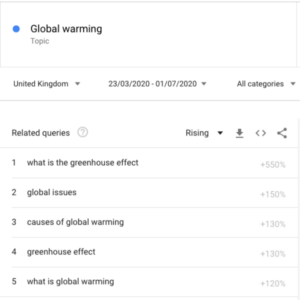 One of the key challenges of preventing climate change is educating the next generation to protect our planet better than those who came before them. Therefore, it is encouraging to know that searches for "what is climate change for kids", "what is environmental sustainability?" and similar queries are increasing in popularity by roughly 120% in recent months.

There are many renewable energy resources for kids available online, and our co-founder Jordan Brompton has made it her mission to "educate the next generation about renewable energy and the electrification of transport". 
Last year, Jordan released her first children's novel, Sparki and the Journey To Earth, a passion project she describes as "the perfect little gift for your eco-warrior children, the future saviours of our gorgeous planet."
The Solution – Renewable Energy
The coronavirus lockdown has caused the demand for electricity to decrease, resulting in renewable energy overtaking fossil fuels in powering Britain. 
The lockdown could well have sparked more people's interest in clean, green power, with UK citizens doubling down on searches for "what is renewable energy".
The Search Stats
"What is renewable energy" searches have increased by 100%



Searches for "Renewable energy sources" grew by 150%


180% more people asked Google, "How does solar energy work", while 160% more searches for "advantage of solar energy" were conducted.



"Wind turbine for home" searches increased by 150%.

"what does sustainable mean" searches increased by 110%


searches for "types of renewable energy" grew by 90%


Interest in Electric Cars Grows
Car manufacturing in April slowed by almost 100%, yet EVs actually gained market share, accounting for 17% of sales across the EU.
It would appear that interest in EVs is growing, potentially as a result of a shift in commuter habits and employment behaviour.
In fact, searches for "electric car home charging stations" – something we at myenergi have perfected with zappi, our eco-friendly, smart EV charger – increased by 60% in the height of the COVID-19 lockdown.
What does all of this mean?
The hard work to stop global warming is only just beginning, and the true test of the UK's resolve to combat climate change is now.
As we emerge from lockdown and life returns ever so gradually back to normality, there have already been reports of a surge in carbon emissions.
It is up to us, as individuals and as a species, to protect our planet; to stop using fossil fuels; to educate people, families, businesses, leaders and the next generation, and to start heavily reducing our carbon footprint. 
It's encouraging to see more people taking an active interest in the climate crisis, and we can only hope that, by offering even more eco-friendly products and guides on sustainability, we can continue asking the questions that need to be asked, and providing the answers people seek.