Since our small beginnings in 2016, the myenergi family has grown from a staff of four to a team of 65 people. Now, we have thousands of customers spread across the UK and overseas.
Our global efforts for a renewable future are only as strong as the family that spreads our message. From our engineers and designers, to our suppliers and customers – myenergi would be nothing without the commitment of truly amazing people.
We want to introduce some of the incredible members of our myenergi family, who inspire us every day and make our dream a reality.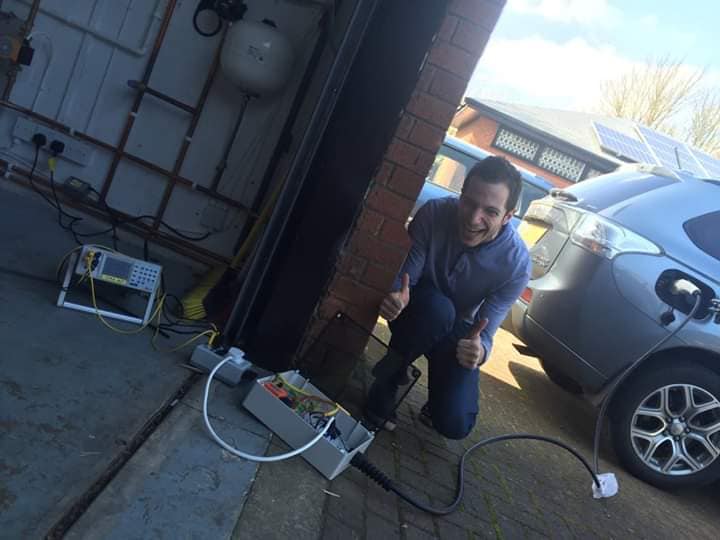 Employees
Our team is growing all the time, and we're constantly on the lookout for new members. Just like our range of products, we work at our best when we all work together.
Our innovative team is always searching for new ways to improve the world around us. Development Engineer, Robin, for instance, joined us in 2016, right at the start of myenergi's company journey.
As a fresh Electrical Engineering university graduate he even helped us choose our name, and initially designed prototypes of our products from the very start, having known Lee (one of our founders) beforehand.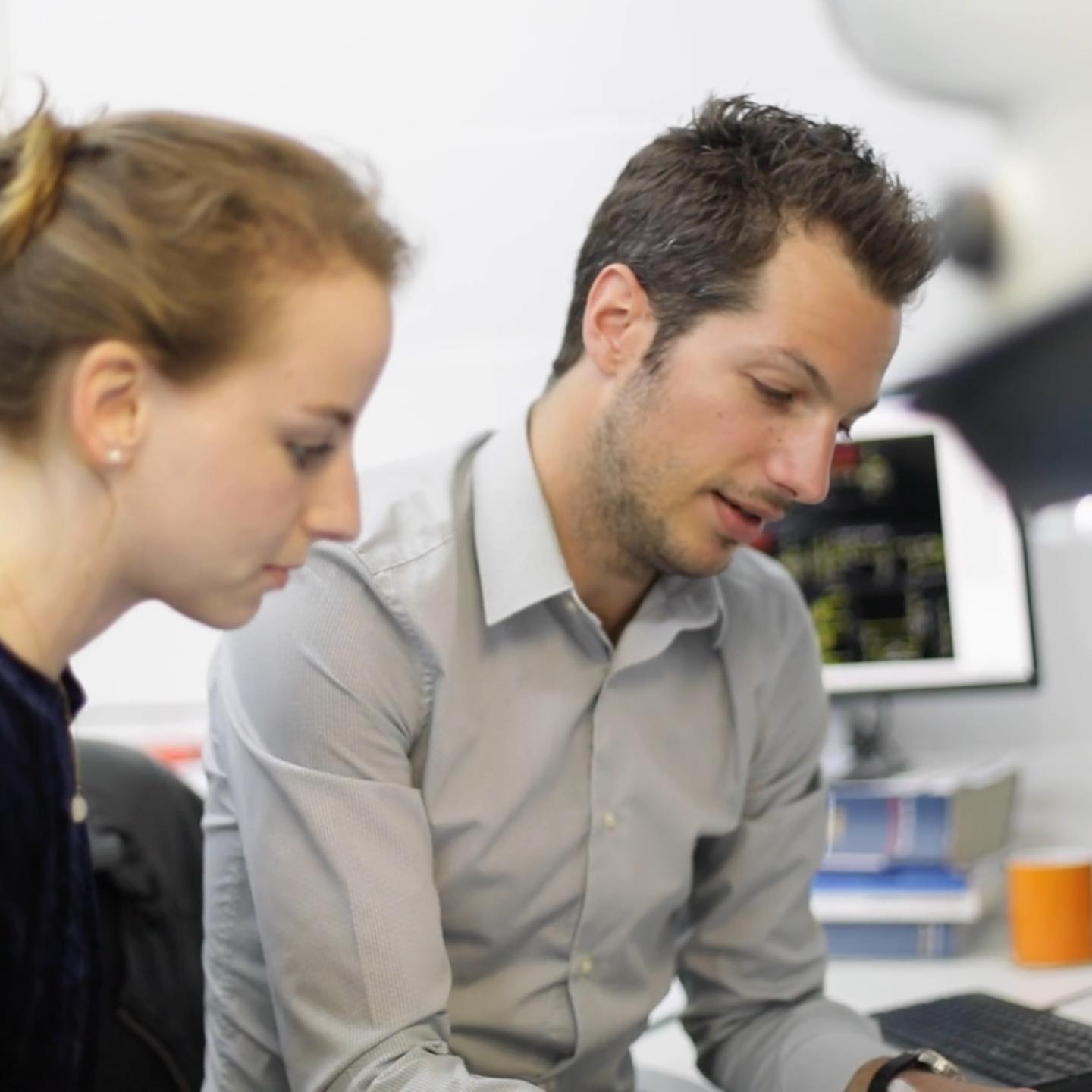 "Myenergi is unique in a sense that it has grown thanks to the commitment of amazing people, imagination, and innovative technology," says Robin. "The zappi, for example, is the first product of its kind."
A testament to his technical genius and contagious passion, his role has evolved into fully managing myenergi products, having led the development of zappi.
Robin is a key part of what we do, covering design, customer support, testing, staff training, production set up and innovation. He even has several patents to his credit!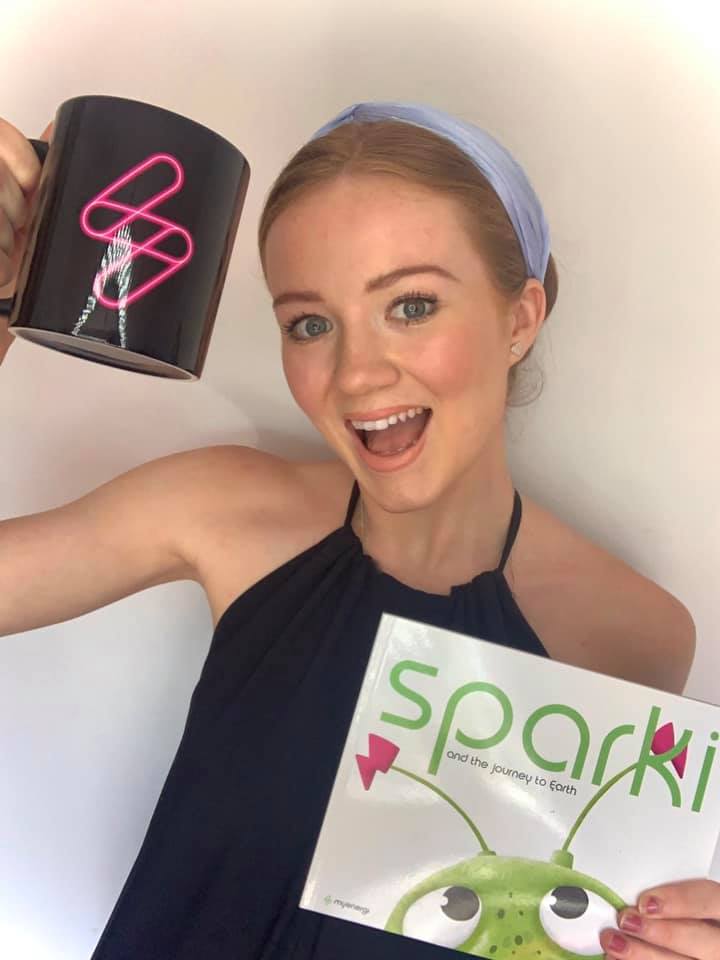 Kennedy Gardiner is another key member of our Green Team. She says: "The thing I love the most about myenergi is that we're all friends, and that we form an excellent communiti."
The public has more of a voice now than ever before, and we are working towards a better future for everyone."
Co-founder Jordan Brompton helped build our Green Team from the ground up.
"We've been very lucky with our wonderful team," she says. "The guys we've got are unbelievable. Lee and I look for people who are passionate, hard-working, loyal and up for a challenge."
Suppliers
Our suppliers are innovators and industry leaders. Their levels of collaboration, ingenuity, commitment and flexibility astonish us every single day.
By combining their technical know-how with a real desire for positive change and passion for the environment – our talented suppliers are an extension of the myenergi team, and a real point of pride within our family.
Stuart Raffles and his Greenstock Lamp Company team are long-standing suppliers of multiple product lines for us. Initially founded in 1987 as a lighting supplier, Greenstock have become innovators in their field, now operating three divisions and shipping on a global scale.

As a fellow technology manufacturer working in the heart of Lincolnshire, Greenstock is a growing and dynamic company that fuses environmental responsibility with technological innovation – and we're incredibly proud to have them as part of our family.
Installers
Our installers drive the renewable revolution every day. Their skills translate our mission from myenergi HQ to the doors of our customers, making their lives greener while reducing their carbon footprint and bills.
The professionalism, efficiency and hard grind of our installers puts them at the forefront of the green revolution. Without their commitment and drive we wouldn't be here today.
We ensure our installers get the exact training needed to install our products, which we provide in our 'preferred installer' training program.
Sam Featherstone, Director of Oval Renewables, is just one of many installers who demonstrate the brilliant commitment of the myenergi family.
Since its creation in January 2018, Oval Renewables has dedicated itself to providing EV charging – even at a time when enquiries were rare. Today, EV charger installation is their specialist area – with zappi being the main product they install!
Sam's tireless efforts help to make EVs and renewable energy technology accessible to all. He hopes that everyone has the means to use renewable energy tech in the future, which is a perfect reflection of the myenergi mission.
The huge network of myenergi product installers ensures you can find an expert near you, who will guarantee the installation process is as efficient and economical as possible.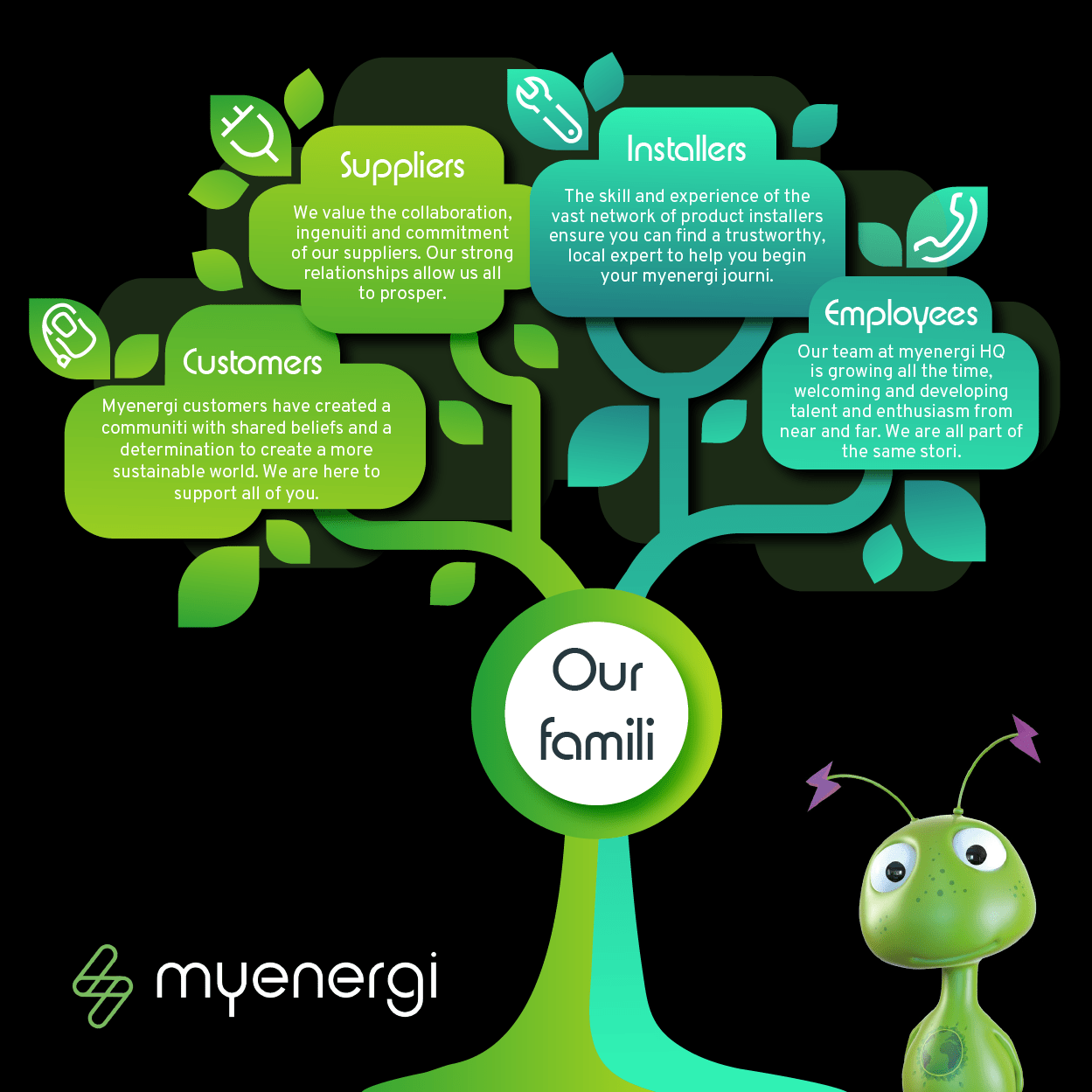 Customers
We wouldn't be here without our extraordinary customers, who share our values and join our collective mission to create a more sustainable world.
We are here to support each and every one of you, and we will never stop thanking our customers for their commitment to making the world a kinder, greener and better place for everyone.
Our community of eco-warriors has even become a digital family – with our online myenergi forum surpassing 1,000 users! Our digital support base is the perfect place for tech support and renewable news, and embodies the community spirit we love at myenergi.
Our Mantra
We've never lost sight of our mantra. When you buy a myenergi product, you become part of the myenergi family.
As such, you get the support of a community that helps each other reach our goal for a greener, kinder future.
We give our family access to not just our products but our support, web forums and myenergi team, who are on hand to guide and advise in any way they can.