What is the Delorean? we hear you ask…
We'll quite literally take you back to the future and explain…
It's the car of the future, made in the past! Made famous by the iconic 80's movie Back To The Future, this vehicle literally gave us a glimpse into how those who grew up in the 80's depicted the future might look by now, referencing the date 2015 for which Mcfly travels forward in time.
Looking at the vehicle now, you can certainly see where Elons Musk's inspirations might have come from for the Tesla Model X, literally making Science Fiction, Science Fact!
Okay.. we haven't quite sussed 'time travel' aspect of the movie and the film predicted we might have moved forward far sooner, but we are finally starting to see glimpses of this technological future through todays pioneering technology companies such as USA's Tesla and the UK's myenergi, who in different ways are helping to make this a reality through the electrification of vehicles. The great shift away from polluting fossil fuels in favour of far cleaner battery technology. If companies such as Tesla are creating the cool vehicles, myenergi are creating the products to power them in the cleanest possible way!
However, myenergi thought it'd be a shame to leave such an iconic vehicle in the past with its outdated exhaust pipe. Therefore, we decided to do something about that!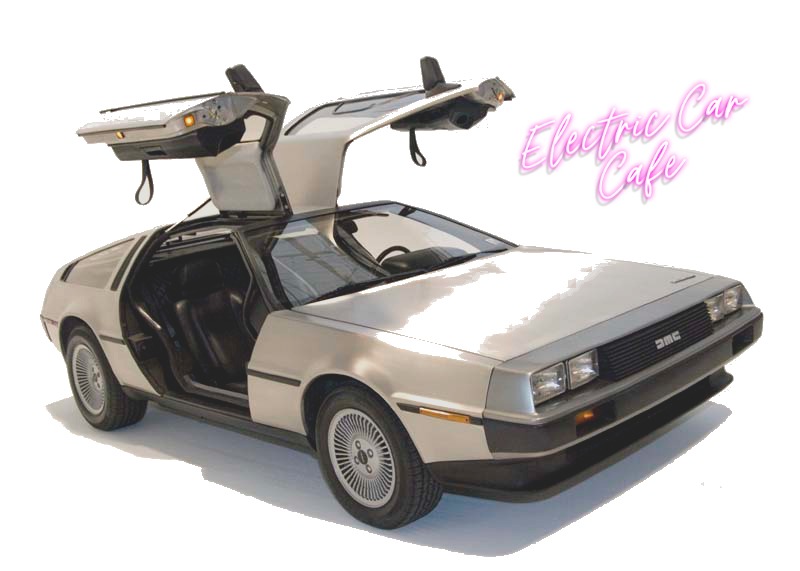 Turning the Delorean Electric!
So how did it come about?…
Our good friends in Australia, Electric Car Cafe who specialise in the art of turning classic ICE vehicles into EV's approached us with the idea of bringing this beautiful car into the current future. We quite obviously said "hell yeah"… a project which has myenergi written all over it! Therefore we partnered with ECC for the project at hand, also providing them with the first solar compatible electric vehicle charger in the world the zappi to help power this beauty.
This Delorean is going to be one of the few in the world powered by a Tesla powertrain and Tesla battery packs.
Want to see the car and know more about the conversion process?.. follow, like and subscribe to Electric Car Cafe's Youtube channel below and watch the 6 part series on all the excruciating technical details and see it come to life!
Which other legendary film cars should be converted to EV's?
Imagine owning an EV version of one of these iconic movie vehicles! We've shown you it is possible!
We've picked a handful of vehicles to start the ball rolling in our version of the classic game Top Trumps, scoring each vehicle on speed, coolness, sex appeal, gadgets and it's secret weapon. Which car will come on top? How do they compare against the Delorean?
DMC DeLorean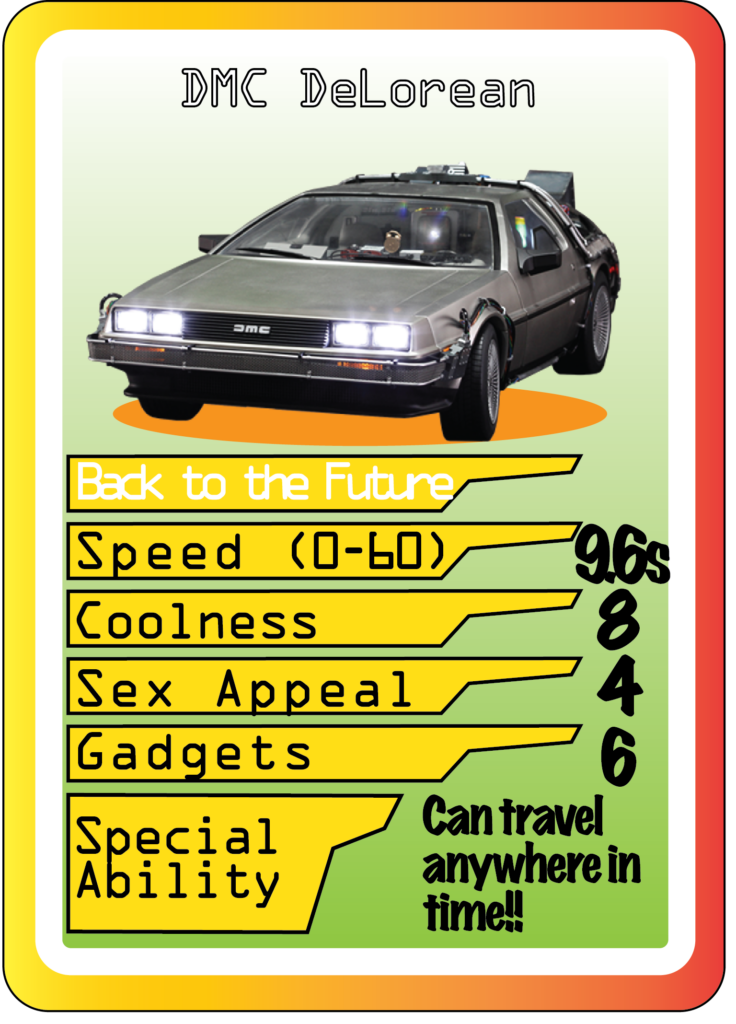 Let's see how the DeLorean stacks up against our selection of iconic movie cars!
Total score – 18
Aston Martin DB5 
Made famous by the super suave James Bond as played by a young Sean Connery in the classic film Goldfinger, it quite clearly beats Doc Browns Delorean on sex appeal and though the Delorean holds the ultimate gadget to travel back in time, this is quite simply a James Bond car. All bond cars come with a whole host of gadgets installed as standard, as designed by Q in his secret lab.
Revolving Number Plates
GPS Dashboard
Arm Rest Controls
Tire Slashers
Smoke Screen
Oil Slick
Rear Bullet-Proof Screen
Front Wing Machine Guns
Ejector Seat
Total score – 27
Dodge Charger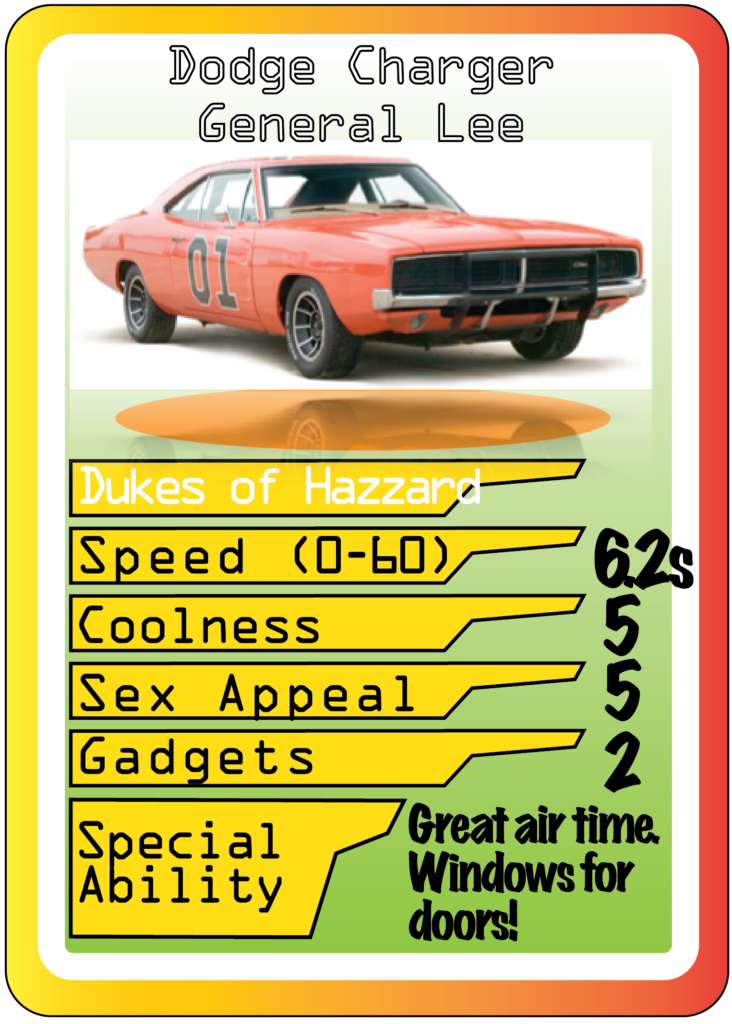 Before the Delorean hit our silver screens, one of the most iconic cars of the early 80's was General Lee's Dodge Charger from the Dukes of Hazzard. This vehicle slightly pips the Delorean on sex appeal though only because it is likely to beat the Delorean in a drag race, although lacks on special gadgets. However, it did potentially spend more time in the air than the Delorean and seemed totally indestructible.
Total score – 12
Pontiac Trans AM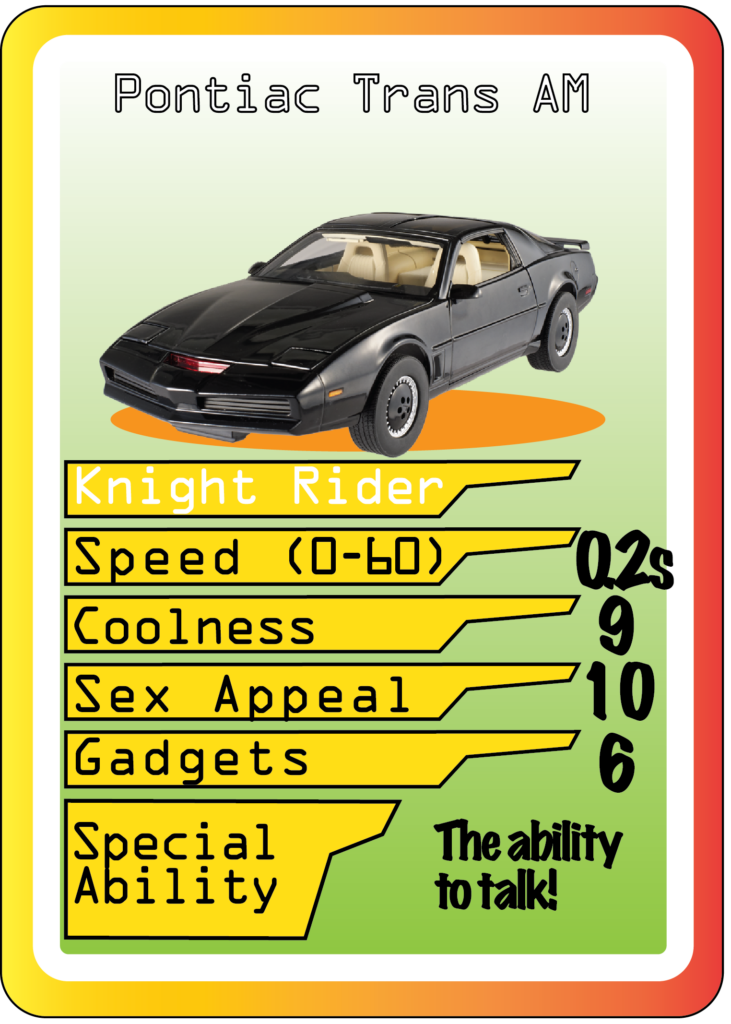 Two words 'The Hoff', of course this steams the Delorean on sex appeal. A car that talked to it's passengers way before the posh dudes on your GPS sat nav. It's pretty fast as well! We are very surprised that Tesla hasn't yet given it's cars a voice to talk back, but we are sure it won't be long! With the increased capabilities of AI technology, we're sure you'll be having deep conversations with your car in the very near future!
Total score – 25
AMC Pacer Mirthmobile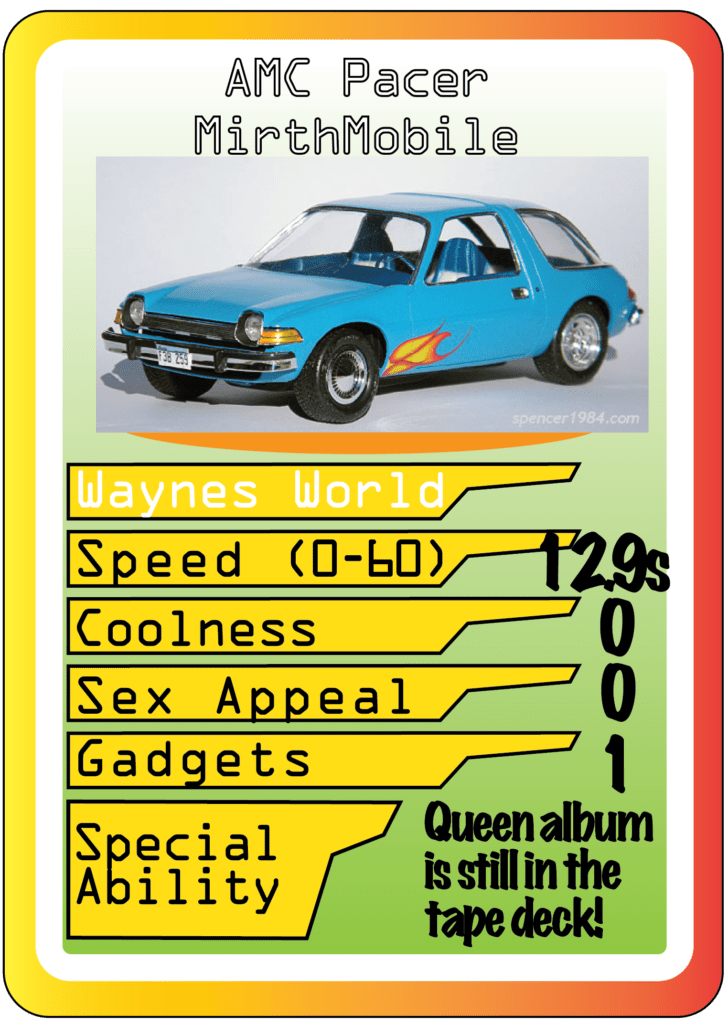 Okay… doesn't seem there is a lot going for this particular vehicle scoring just 1 point, but it's the taking part that counts and we had to pick an equally cool wooden spoon! However, we'd pay to see somebody turn this vehicle into an EV!
Total score – 1
The Batmobile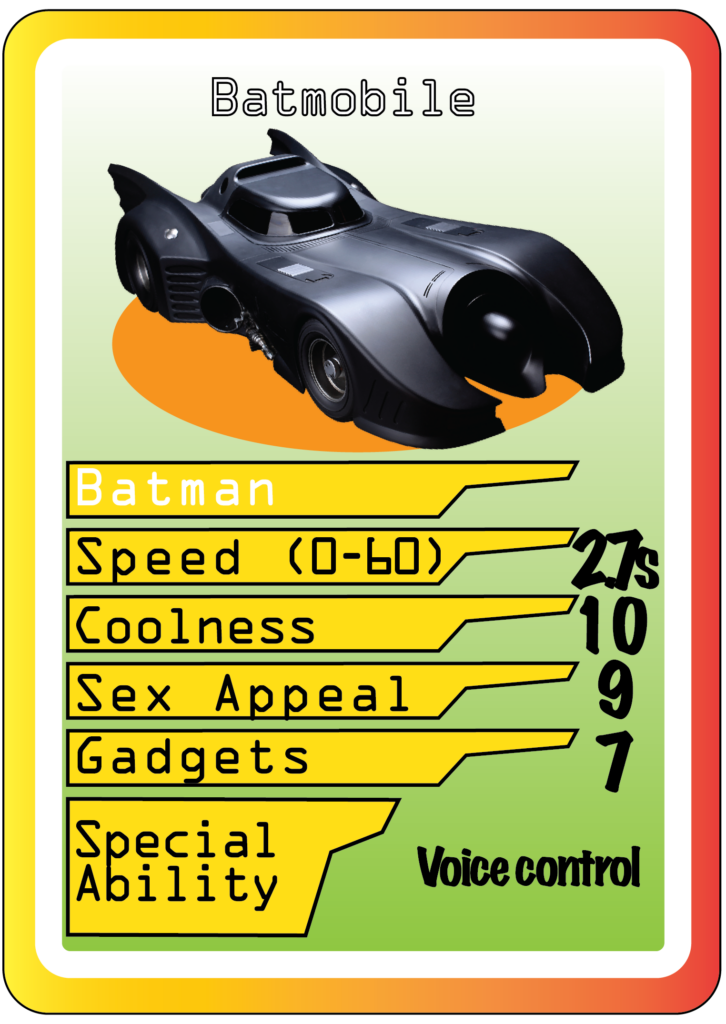 I mean… it's the Batmobile.. possibly the coolest car of anyones childhood! Tesla have adopted voice control but does need to catch up on the below list of gadgets, especially the Sound-distinguishing Bat-tector, very apt for these times!
See the full list here, taken from the batman fandom 
Closed circuit television
Handset with direct hotline to police headquarters
Direction Finder equipment
Spare Batman and Robin costumes and utility belts
Gas masks and breathing apparatus
Dashboard radar
Emergency searchlights
Traveling crime-lab
Built-in sonic range finder
Short-wave police radio with microphone
Geiger Counter
Traveling research files
Cloth tool bag with tools
Asbestos costumes
Grappling equipment
Whirly-Bats
Inflatable rubber rafts
Smoke screen devices
Microscope
Emergency Dashboard JLA signal
Sound-distinguishing Bat-tector
Hydraulic impact absorbers
Diplomatic license plates (immune to normal traffic regulations)
Static Bond Tires
WayneTech 1200 bhp hybrid power cell
Nitro methane afterburner
Electromagnetic ejector seat
Enhanced intel and recon capabilities
Ai and remote guidance systems
Payload: Laser/infrared homing 5gm high explosive cl-20/hmx cocrystal Immobilizer Missiles
Advanced synthetic fibre composite wheels
Containment Unit
Graphene composite High speed hydraulic cylinder Air Brakes with regenerative energy mechanism
120mm carbon nanotube aggregate explosive reactive armor plating
Vulcan Gun 25mm
60mm Cannon/high explosive penetrator shells
Riot Suppressor
Electroshock Defense
Hydraulic Gyroscopic Wheels
Multipurpose grapple claw
Total score – 26
The Ectomobile – Miller Meteor Cadillac Hearse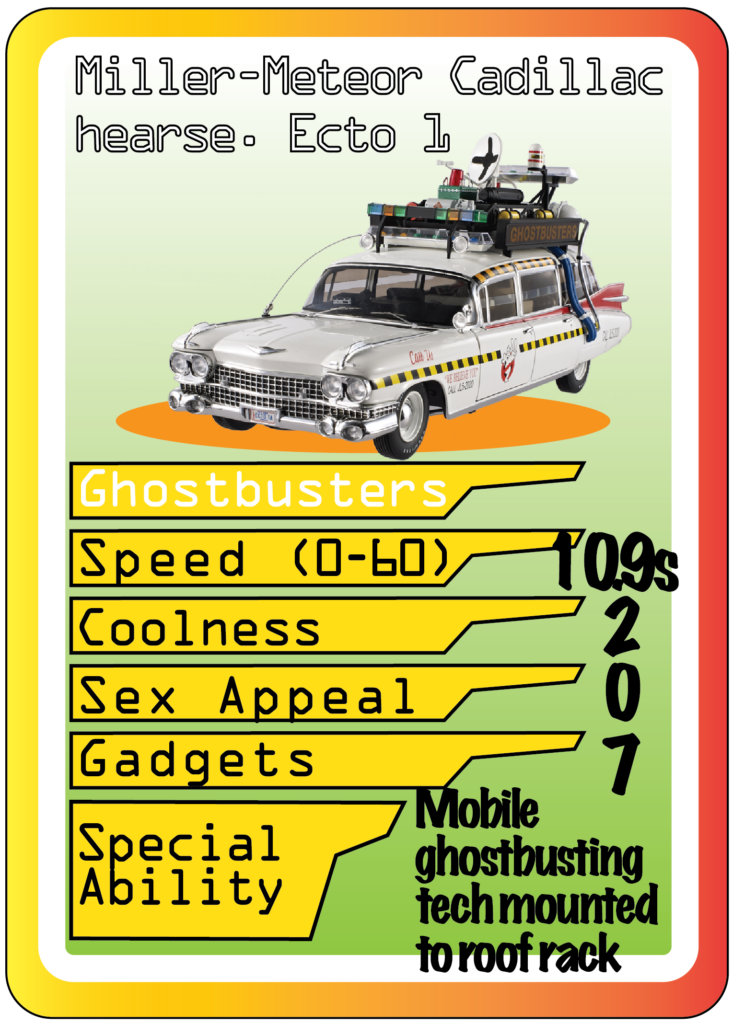 Another very iconic vehicle from the 80's movie Ghostbusters. We decided to give this vehicle a 7 for gadgets because they are so technical not even we understand how they work! However, even if 'The Hoff' drove this vehicle it might score a 2 at best for sex appeal and might even loose a point for coolness!
Total score – 9
6000 SUX – Robocop Car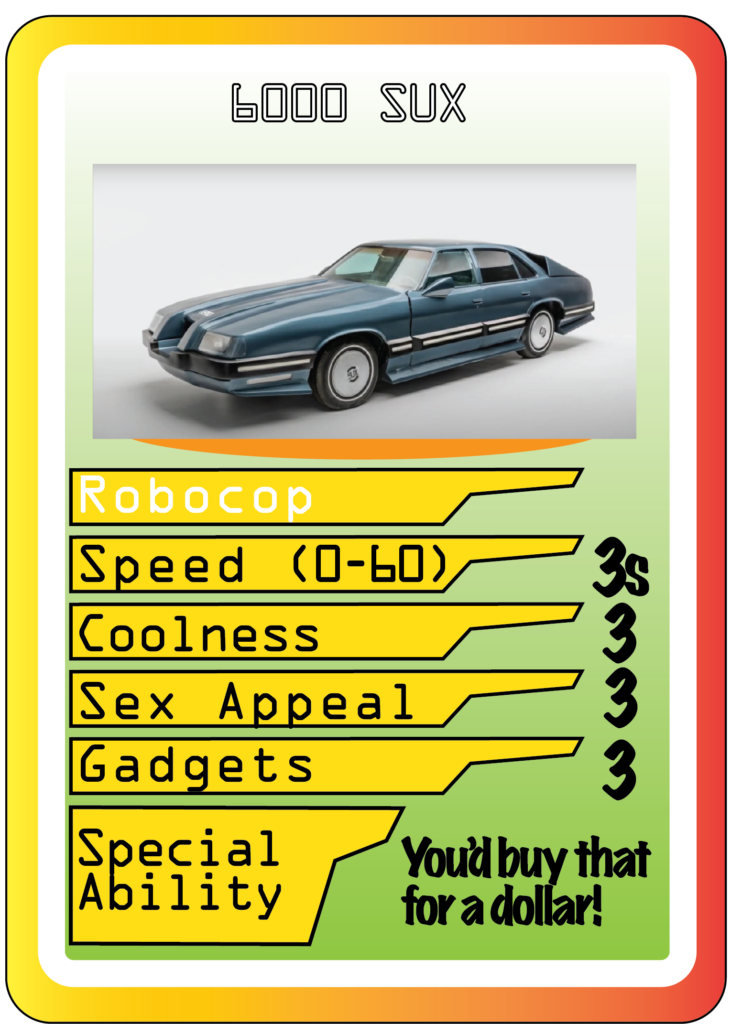 We couldn't find anything particularly special about this car other than it feels like a poor mans Delorean! However, it doe's shout i am an 80's classic movie car and we'd happily see this turned into a fully working EV!
Total score – 9
Dodge Charger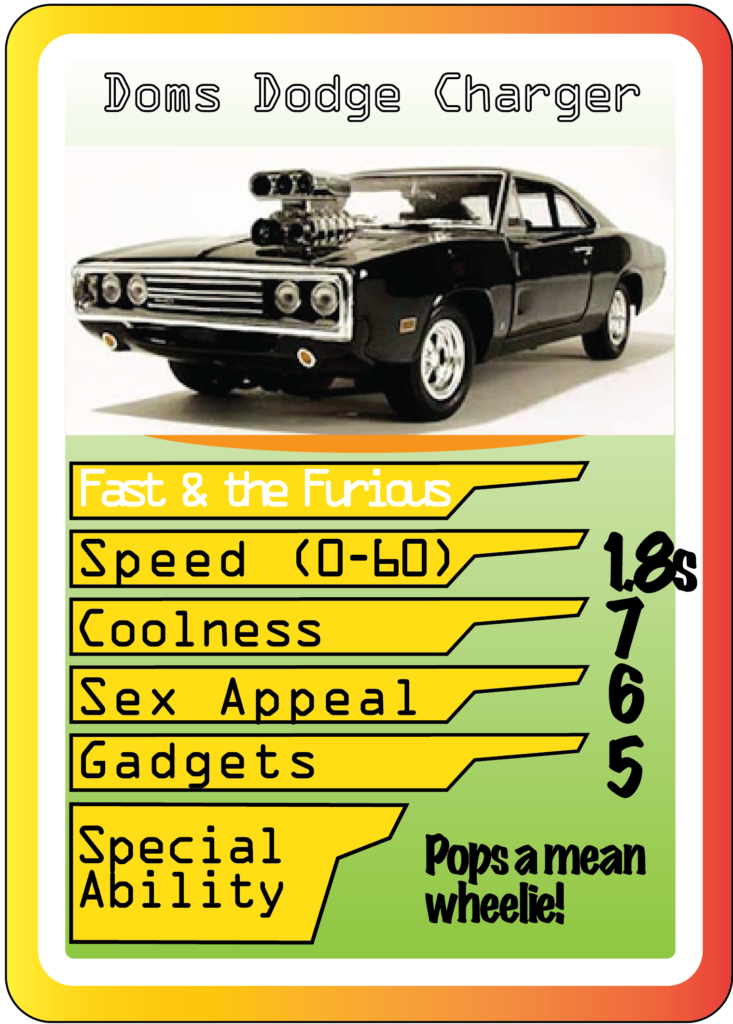 The second Dodge vehicle in our lineup, famous for being the car that Dom Toretto owns in the Fast & Furious series. Heres where we have hit a grey area! We'd have to rip the iconic exposed muscle car engine air intake from the bonnet, though if we turned this into an EV perhaps we'd somehow leave this element intact simply as an ornament!
Total score – 18
Have we missed any other iconic vehicles which deserve to be in our list? Disagree with our scores! Let us know your thoughts on our social media channels! 
If you enjoyed this article, you may also like our blog on the best EV to own to survive a zombie apocalypse